Finding Wild Horses in Idaho
There are 6 wild horse herds remaining in Idaho:


​• Black Mountain southwest of Homedale near the Oregon border
• Boise Wild Horse Corrals in Boise
• Challis near the town of Challis in central Idaho
• Four Mile about 15 miles north of Emmett
​• Hardtrigger southwest of Homedale near the Oregon border
​• Saylor Creek south of Glenns Ferry
• Sands Basin

southwest of Homedale near the Oregon border
---
Black Mountain Herd Management Area
Size:
50,904 acres
Number of wild horses the BLM deems appropriate for the herd area is 30-60
The Black Mountain herd area is south of and adjacent to the Hardtrigger herd area. I have not yet visited this herd area and as best I can tell you can get there by taking Hwy 78 south of Murphy past Rabbit Creek Rd perhaps to Silver City Rd and start exploring from there. Or maybe a bit farther south to Oreana Loop and Bachman Grade Rd to explore. I don't know what shape either of those roads are in but I would suggest a high clearance vehicle.
---
Boise Wild Horse Corrals
The Boise holding pens are located at 3948 Development Ave, Boise, Idaho and the phone number is 208-384-3300. Visitors are welcome to view the horses from outside the facility's fencing at any time but it is only open for adoptions and to see the wild horses close up on specific adoption days. See the
webpage
for more info.
---
Challis Herd Management Area
Size:
167,848 acres
Number of wild horses the BLM deems appropriate for the herd area is 185-253
I have not personally visited the Challis HMA yet, but a fellow advocate did in summer of 2023 and provided the following directions:
Starting from Arco, ID
1) Take I-93 North for approximately 60 miles
2) Turn Left after BLM sign "Broken Wagon Rd./ Road Creek 9" onto a dirt road
3) Proceed about 200 ft. See BLM sign for Challis Herd Management Area.
4) Turn Left. Follow signs for Road Creek Road*
*This is a decent dirt road
5) Continue on Road Creek Road approx. 7.25 miles
6) Turn Right onto Horse Basin Road** If gates are closed, you can't get through, so good to call BLM office ahead.
**Road is VERY rugged, loose, large rocks, definitely need 4wd high clearance (and ability to change a tire, which I don't have and would've been in trouble if it came to it!!!)
7) Approx 1.3 miles in there is an intersection, stay left on Horse Basin Road
8) Approx 1.84 miles you'll drop into an area and see wood fence exclosure area with lots of greenery, Horse Basin Spring
• This is where we parked and hiked west up and over several ridges to where we spotted the horses on the Ridgeline near the fence
9) Continue straight on Horse Basin Road and it eventually you get to Horse Basin Spring
​• Left turn takes you over a saddle and towards a corral
10) Stay right and you can do a loop back to Road Creek Road
11) We continued on Road Creek Road all the way until it connected to I-76
12) An additional route recommended to explore Spar Canyon Road

​*Thank you Janine for sharing your photographs and directions!

---
Four Mile Herd Management Area
Size:
18,800 acres
Number of wild horses the BLM deems appropriate for the herd area is 37-60
The Four Mile herd area is north of Emmitt by about 15 miles on Van Dusen Rd which then turns into Big Flat Rd. At the fork you can stay on Big Flat Rd or turn left onto Four Mile Rd: both roads are well graveled and graded road suitable for most vehicles. These two roads form a loop (if you take Four Mile Rd, watch for Big Flat Rd and take a right) which encompasses the Four Mile herd area as best I could tell.
There are ranches all around this area and plenty of fencing to confirm this.
There are a few small roads that go between the two main roads but I had a hard time finding any suitable ones to drive the truck on. I was there a couple weeks after the most recent roundup in Fall 2021 and only found a small band of 3 bachelor stallions (see bottom right photo) along Big Flat Rd. If you found some horses trails and were up for some hiking you could probably head up into the hills between the two main roads and hopefully find more horses than I did.
---
Hardtrigger Herd Management Area
Size:
67,882 acres
Number of wild horses the BLM deems appropriate for the herd area is 66-130
I originally tried getting to the Hardtrigger herd area by taking Chipmunk Meadows Rd off of Hwy 95 because it was just across the way from the Sands Basin HMA, but the road was blocked by a locked gate a few miles up. So instead I took Hwy 78 south to the town of Murphy and turned west onto Rabbit Creek Rd. Rabbit Creek Rd itself is suitable for most vehicles and it is a busy recreation area with OHV trails and hiking trails. I explored most of the roads that I could that weren't blocked by closed gates, and saw some gorgeous scenery (especially by taking roads to the south that led up the hills/mountain to some outstanding rock formations and overlooked the valley into the Black Mountain herd area).
There were a couple signs letting me know I was in the herd area but as I recall they were both on the western end.
​
I never did find any wild horses or even current signs of wild horses (no fresh manure piles). I know photographers have found horses here in the past. I was there in early Fall.
---
Sands Basin Herd Management Area
Size:
11,724 acres
Number of wild horses the BLM deems appropriate for the herd area is 33-64
The Sands Basin herd area is one of the smallest herd areas and one of my favorites. It's a beautiful little valley with gorgeous wild horses. There are two ways to reach Sands Basin herd area by taking Hwy 95 south out of Homedale. The first is to enter from the north and take Cemetary Rd west to S Jump Creek Rd and turn south, then turn west on Poison Creek Rd and left on Sands Basin Rd and continue until you cross a fence and cattle guard. This road is suitable for most vehicles and is the main road that travels through the short herd area.

The other alternative is to say on Hwy 95 south for 16 miles and turn right onto Sands Basin Rd. It is a gorgeous drive along Hwy 95. Once on Sands Basin Rd stay right at both of the main forks (to stay straight on the better road) and then you will see the yellow cattle guard and a sign letting you know you are in the herd area. There is a waterhole right off the main road by the big tree (see top right photo).

I also took a few of the dirt two-track roads within the herd area, these can be bumpy with rocks and holes and I do recommend a high clearance vehicle. There is one two track that I took to the east that goes up and around the hills, that is where I saw the biggest band of horses. That dirt road will eventually take you back down to Sands Basin Rd near where you got off Hwy 95 on the south end.
---
Saylor Creek Herd Management Area
Size:
101,876 acres
Number of wild horses the BLM deems appropriate for the herd area is 50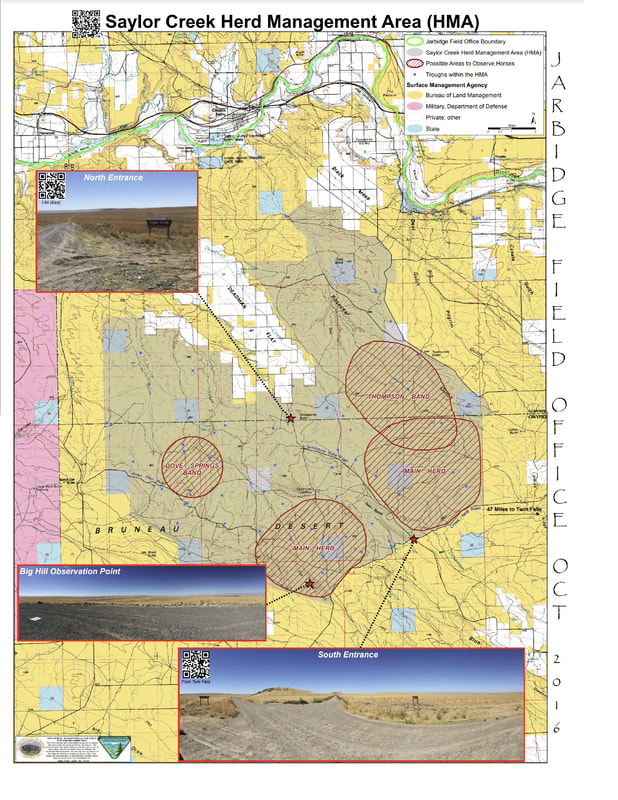 I have not yet visited the Saylor Creek herd area but from my research it appears to by south of Glenns Ferry and I-84. It is adjacent to the Saylor Creek Air Force Bombing Range to the west. I would take Sailor Creek Rd or Rosevear Rd south out of Glenns Ferry; from here you can go west on Flint Mesa Rd to explore around the Flint Mesa, continue south and eventually turn left at the fork to go down to Sailor Creek Rd and head back west towards Grindstone Butte Rd. From there you could stay straight on Sailor Creek Rd, then go west on East West Rd and turn right on Soldier Cap Rd which will take you along the bombing range and back up to Glenns Ferry. Or at the junction for Grindstone Butte Rd, turn right then left at the fork before Grindstone Butte itself (and the nearby neighborhood) on a road that will head west and also take you over to Soldier Cap Rd.
There looks to be several smaller roads, probably two-track, leading off all the main roads; if you see signs of wild horses including tracks or fresh manure piles then you could explore those smaller roads as well.
​