Wild Horse Photo Challenge
This idea started on FB as a 7 day challenge to share photographs of healthy wild horses living wild and free on our public lands. I have decided to keep it going and am tagging my Senators, Representatives, and those who I feel could do something to truly help with the plight of our wild horses, public lands, and wildlife. I will share each post here and you can go to the
Save Our Wild Horses FB page
and share the posts from there.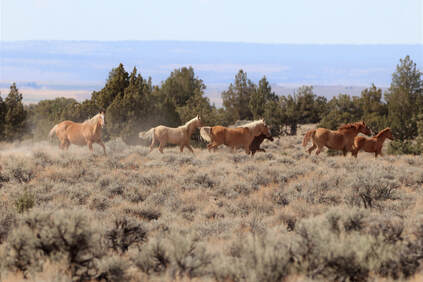 Wild Horse Challenge Day Eight: The Palomino Buttes wild horses were rounded up just a few weeks before I visited the area. When we entered the HMA we were greeted with a bullet-ridden 'Palomino Buttes HMA' sign. We found one small band of 3 horses and this beautiful band in the photo below. This HMA is 71,000 acres with a high 'AML' of just 64 wild horses which equals one horse for every 1,109 acres. There is a main gravel road that travels right through the middle of the
HMA for ranchers/residents further down the road to use, fencing, cross-fencing and cattle guards preventing the horses from roaming freely within the area. There are two livestock grazing permits in this HMA allowing 761 cow/calf pairs to use the forage. We also visited the Burns holding facility nearby where the recently rounded up wild horses were being kept and heard the horses still calling to each other and foals looking for their families through the panels.
​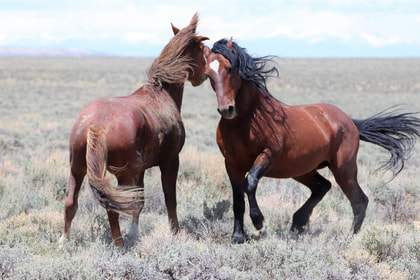 Wild horse photo challenge, Day Seven:
This photo of two healthy wild horses was taken at the White Mountain HMA in May 2021 before the roundup started in October. White Mountain is just north of Rock Springs, WY where the town has signs pointing you towards the Wild Horse Corrals (aka the holding pens) and the Pilot Butte Wild Horse Scenic Route. The Rock Springs Grazing Association has every intention of getting every wild horse removed off of our public lands in this area to make even more room for livestock; I wonder at what point that town will take the signs down pointing you towards wild horses? I will share more about the White Mountain HMA in future posts.
​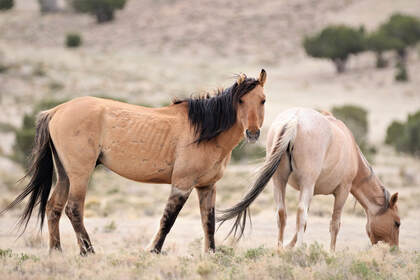 Wild horse photo challenge, Day Six: My visit to the Sulpher HMA was a bit shocking; the amount of fencing to keep the wild horse bands apart from each other; the cattle guards, the fenced off springs, the cattle everywhere on 6 different grazing allotments within the HMA. The HMA is 230,157 acres with a 'AML' of 165-250 wild horses which equates to 1 wild horse for every 920 acres, The BLM's own data shows it's commercial livestock, not wild equines, that are responsible for
damaging our public lands. The Sulpher wild horses have unique DNA and they should be protected.
---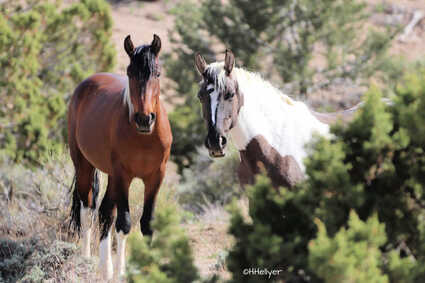 Wild horse photo challenge, Day Five: These two beautiful, healthy wild horses were part of the Conger herd in Spring 2021. This herd was rounded up later in the year and 213 wild horses lost their freedom forever, shipped to the Axtell Facility, a private facility that does not allow in-person viewing or public adoptions. The Conger HMA is 170,993 acres with a 'AML of just 40-60 wild horses which comes to one horse for every 4,275 acres. I saw cattle grazing as soon as I
entered the HMA; the rancher pays just $1.35/month to graze a cow/calf pair on our public lands. Inhumane helicopter roundups and mass incarceration of wild equines are a financial boondoggle that serve only the livestock industry. Leave mustangs and burros wild and free.
---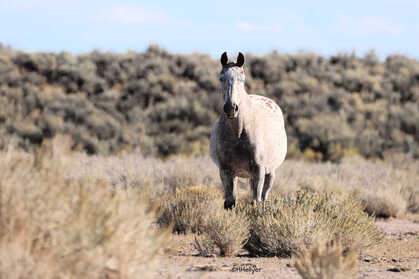 Wild horse photo challenge, Day Four: It's time to restore our iconic wild horses and burros to their rightful place on our public lands. This lone wild horse is the only one we saw after spending 8-9 hours driving around the Warm Springs HMA in eastern Oregon last Fall. This HMA is 475,460 acres with a 'AML' of just 111-202, but the wild horse and burro herd was decimated in the last roundup. I've read many other comments from people who said Warm Springs felt empty when
they went to look for wild horses. This HMA is fenced and cross-fenced and has large wells installed to provided water to the livestock. Remove the livestock and return the wild horses and burros to the land they were born on.
---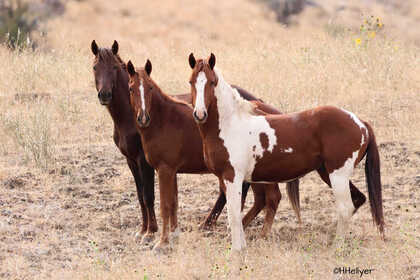 Wild horse photo challenge Day Three: These three bachelors are what was left after the roundup in the Four Mile HMA last year. When wild horses from lesser known HMAs are rounded up they are at a much larger risk of going to slaughter over our borders in Mexico and Canada under the faulty Adoption Incentive Program created by the Bureau of Land Management. Unqualified adopters are 'adopting' our wild horses (up to 4 per person), putting them in a field to fend for themselves for a year, getting paid $1000 per horse and the title after 12 months, then dropping the wild horses at auction pens to make even more money. Then they go back to a BLM facility and pick up more horses and do it all over again. So many of our wild horses are being abused under this faulty adoption program and rescues are being overwhelmed. The BLM needs to abolish the AIP program immediately. Our wild horses are meant to be protected, not sent to slaughter in Canada and Mexico.
---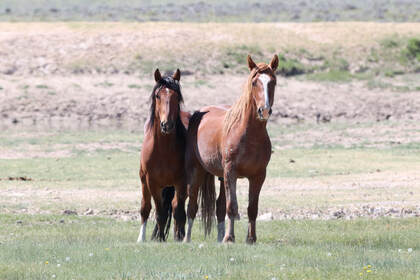 Wild horse photo challenge, Day Two: These two beauties are from the Dishpan Butte HMA in WY, part of the Lander Complex. The BLM wants to round them up and replace them with more livestock and oil wells and plans are already in place to do so. This herd area used to have its own acreage and 'AML' but the BLM turned five of the nearby herd areas into one complex and to reduced the 'AML' allowed. They deserve to live wild and free on the land they were born on. Keep Wyoming wild.
---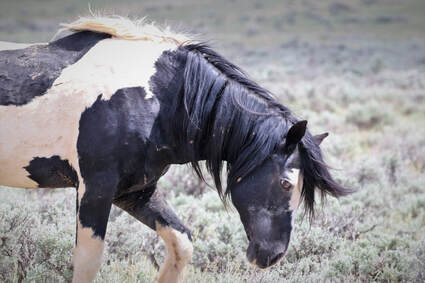 Wild horse photo challenge, Day One: Protect our wild herds and stop the inhumane helicopter roundups. This beautiful wild horse is Washakie from McCullough Peaks in Wyoming. The McCullough Peaks herd is able to live wild and free without threat of roundup because a PZP program using the native PZP is in place. This herd still has foals each year but haven't been rounded up in years. To be able to watch our favorite McCullough Peaks horses grow from foals to healthy and mature mares and stallions is the way it should be. PZP is one of the topics that most divides wild horse advocates and I do not agree with using it. However, native PZP has been proven to be safe as demonstrated with the Assateague wild horses on the east coast over the last 20 years. Newer versions of birth control including PZP22 and Gonacon are dangerous and should not be used as they result in sterilization. Please keep in mind that nearly all wild horse herds are fenced into their herd areas and are unable to truly roam freely on the land; we have two choices: treating the herd with native PZP while still allowing the them to produce a limited number of foals each year and enjoy them for years to come, or don't treat the herd and subject them to frequent helicopter roundups where the family bands will be separated from each for life. Please think about this carefully. We all wish the herds could truly roam free and not have their numbers controlled, but when they are fenced into a certain number of acres it does limit their food and water sources to a certain point. To have been able to watch Washakie from when he was born to the mature older stallion he is today is a treasure; to think he might have been rounded up, gelded, and living in a holding pen forever is not something he deserves.